Dr Stephen Curran: Background and Career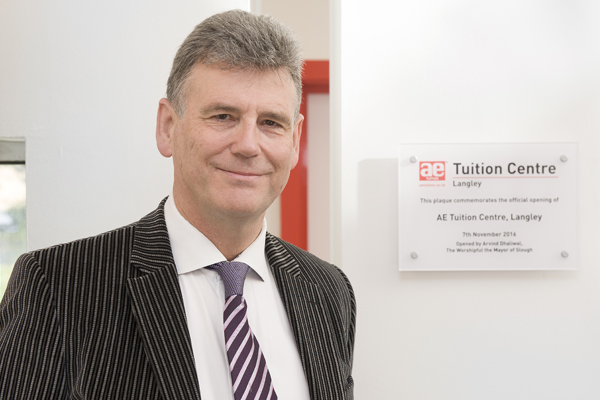 Dr Stephen C Curran: Education Director
PhD, MA, BA(Hons), B(Mus), PGCE, Dip.RSA, MCollT
Stephen has many years of teaching experience, both in the primary and secondary sector. In addition to writing, Stephen founded AE Tuition Ltd, which runs 11+ courses for children in Mathematics, Verbal Activity (inc. Verbal Ability and Verbal Reasoning), Non-verbal Reasoning and English. Courses in Core English and Maths for years 4-5 and in Core English, Maths and Science for years 7-9 (Key Stage 3) are also offered.
He also established AE Publications Ltd, which writes and publishes the educational material used in the AE Tuition Centres
In addition to writing educational books, Stephen's literary talents include writing screenplays and fiction.
Stephen grew up in an ordinary working-class home in Kent. From an early age, he was an avid reader and excelled in English, music and drama. He studied at a technical high school in Kent (part of the old grammar school system) and gained four A levels and 10 O levels.
Stephen chose to train as a teacher, and completed his PGCE (Postgraduate Certificate in Education) with distinction in 1985 at St Mary's College in Twickenham. He started his teaching career in the same year. He knew that he had the required qualities to be a good teacher – interest, motivation and good communication skills. He wanted to help children achieve educationally, having been inspired by his own contact with superb educators. He taught in four different state schools, and became head of department in three of them. He headed the English department in his last school.
Like many teachers before him, Stephen originally started privately tutoring children to supplement his income. His first student in 1990 wanted to study for the 11+. The boy was successful and gained a place at his local grammar school of choice in Buckinghamshire. Stephen continued to tutor pupils for the 11+ and word soon spread of his success. Before long he was teaching groups of children in their houses.
Stephen found the work extremely rewarding and he was delighted to discover that his tutoring was not only helping pupils reach their goal of passing the 11+, but also improving their performance in school. By 1999, demand was so high and there were so many groups of students, he decided to hire a hall and employed four assistants to support him. Before long there were two more teachers and 30 assistants. Soon after this, Stephen decided to focus full time on tutoring by founding AE Tuition, and left his school teaching post.
To support his pupils at AE Tuition, Stephen started to write and publish his own tuition books through the newly formed AE Publications company.  Maths books were the first to be published, but these were soon followed by Verbal Reasoning/Activity, Non-verbal Reasoning and English books.
By 2005, AE Tuition had grown so large it needed its own premises. In May 2006, AE Tuition purchased 2 Kingfisher Court in Slough, where it still resides today.
Due to the year-on-year excessive demand for tuition, a second tuition centre was opened in September 2016 in Langley, Berkshire.
A third tuition centre opened in September 2019 in Feltham, Middlesex.
Although Stephen still teaches at the tuition centres, his main focus is now on training other teachers in his approach and on writing new material. As an expert educator, Stephen is often asked to comment on, and contribute to, discussions on national education policy.
Outside of his teaching interests, Stephen has studied Theology at Spurgeon's Theological College, where he secured a first-class honours degree. He has also gained a second bachelor degree in Music at Surrey University and an MA in Theatre Studies at Leeds University. Stephen's interest in the arts led him to train as an actor for two years but he chose to use the skills he acquired for writing and communication purposes.
Stephen's interests include writing stories, plays and screenplays. One of his plays won the United Distiller's Community Theatre Award in 1993, and was performed at the Lyric Theatre in Hammersmith. He also won the Euroscript Screenwriting Award in 1999, and his screenplay was marketed with agents across Europe. Most recently, Stephen won first prize in the 2010 USA 'Script Vamp' Feature Screenwriting Contest in the Epic/Historical category. The same screenplay also achieved runner-up prize in the Action/Adventure category. Stephen is still writing and has more screenplays in the pipeline.
Dr Stephen Curran was awarded a doctorate from Brunel University in 2015. His doctorate was on The History of Screenwriting.
He now lectures on the Film Studies degree course and the MA Screenwriting course at Oxford Brookes university.